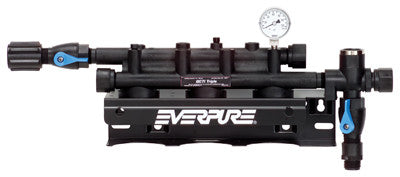 Everpure QC7i Triple Filter Head - EV9272-23
---
Everpure QC7i EV9272-23 Triple Filter Head Assembly
Filter head exclusively for Everpure replacement cartridges.

DESCRIPTION:
•New redesigned commercial quality filter head for Everpure filter cartridges
•Triple filter head is parallel plumbed
•Built-in water shut off valve and flushing valve makes cartridge change outs easy
•A cartridge nesting feature provides a more secure and durable fit
•Includes mounting box bracket and screws for fast and easy installation. No extra mounting plate is required
•Built-in water pressure gauge helps monitor proper flow
•New modular design of box bracket allows for future retrofitting of add-on components without disassembly of system. Optional wing bracket kits available
•All wetted parts have passed NSF extraction tests
•Engineered for durability, strength and longevity. Will not corrode

Qty. per Case: 0
Inlet Outlet Size: 3/4"
Shipping Weight: 2 lbs
H: 8.5" W: 20.75" D: 5.5"
What Cartridges to use with this item:
(ESO 6) EV9607-10 (Capacity 470 Gallons @ 150ppm) Discontinued
(ESO) EV9607-20 (Capacity 503 Gallons @ 150ppm)
(ESO 7) EV9607-25 (Capacity 600 Gallons @ 150ppm)
---
Share this Product
---
More from this collection