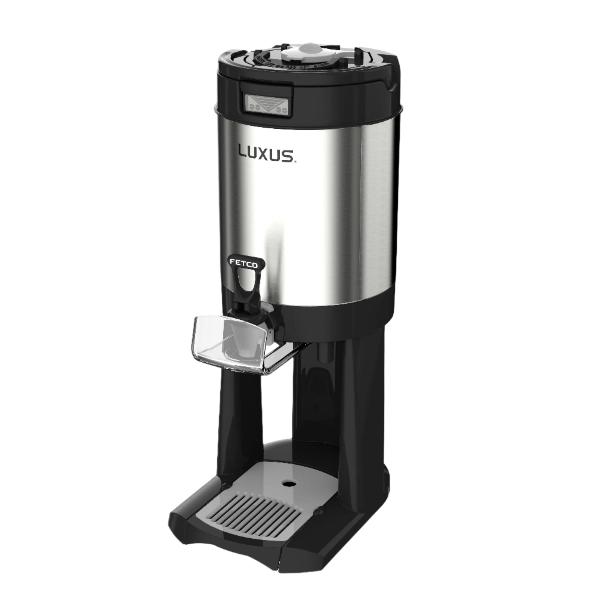 Fetco Thermal Dispenser L4D-10 LUXUS
---
Fetco Thermal Dispenser L4D-10 LUXUS
More product info
This 1.0 gallon L4D-10 LUXUS® Thermal Dispenser is a stylish self-serve option for hotel lobbies, breakrooms, office coffee service, C-Stores and anywhere cups per hour volume is light or countertop space is limited.
Standard features of the innovative L4 series include the digital Freshness Timer® and Volume Indicator. The Freshness Timer® digitally displays how long the beverage has been held with a series of clocklike icons that fill in over time. The Volume Indicator shows how much liquid has been dispensed in .25 gallon increments with a "V" shape that gradually disappears. These features are critical for the operator monitoring liquid levels and maintaining uninterrupted beverage service.
The funnel is designed to withstand high temperatures, impact and acidity. The top-mounted handle allows for quick and easy cleaning and maintenance.
Direct access to the brew cap and funnel without removing the lid prevents moisture and heat from escaping to keep liquids hot and fresh.
The interior construction features a high-quality stainless-steel vacuum liner with superior insulative properties for optimum retention of heat, freshness and flavor. The durable stainless steel outer body construction is attractive yet withstands harsh conditions associated with daily use, cleaning, handling and transportation.
An integrated stand means it's always ready for immediate display in the service area and no searching for a separate serving station. The 2-piece drip tray built-in to the base is completely removable for thorough sanitization.
Collapsible carry handle is strong and assures safe and comfortable transportation to any location. A transparent faucet guard helps prevent cross-contamination by keeping container openings away from the spout.
Most compatible for direct brewing with CBS-2140XTS series brewers.
---
Share this Product
---
More from this collection